The Heart Care Center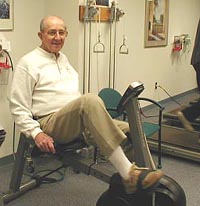 When diagnosed with a form of heart disease, patients and their families may feel frightened. There is sometimes a sense of personal loss, as patients feel they are no longer the people they thought they were. Often, lifestyle adjustments may need to be made for a successful outcome to occur.
The goal at The Heart Care Center is to restore patients to as normal a life as possible. And this comes about through our family-centered approach, which involves the patient, his or her physician, the family, and support staff. Effective heart care is this kind of team effort in which progressive medical treatment is combined with a caring and compassionate staff.
Established in 1971, The Heart Care Center was the first of its kind in southwest Michigan to provide rehabilitation services to heart patients, and currently offers state-of-the-art diagnostic equipment and expanded rehabilitation services.
Specific medical treatment and educational programs are designed to meet the particular physical and emotional needs of each individual. But it's the one-to-one relationship between staff and patient that makes The Heart Care Center unique.
The Heart Care Center's staff comprises cardiologists, intensivists, internists, pulmonologists, specially trained nurses, exercise physiologists and technologists, all of whom participate by offering their care and medical expertise.